Alaska Adventure Jobs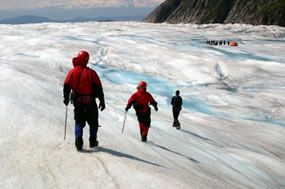 Individuals from the "lower 48" come to Alaska to experience adventures from rafting to hunting to whale watching and guides as well as support staff (such as sales people, mechanics, drivers) are needed to assist outfitters with their operations. For some companies, age does not matter (one company reported they had staff ranging from 16 to 60 years old). While for others, such as Sockeye Cycle you need to be over 23 years old to apply.
The types of trips as well as the clientele greatly differ by outfitter - ranging from youth-at risk to cruise ship passengers with little outdoor experience to tourists who are seasoned mountaineers. Your qualifications such as certification as a wilderness first responder/CPR, language ability, or previous experience in the backcountry, will determine your employment options.  
What to Expect
The season can start as early as April and as late as June and continue through September or the beginning of October depending on the type of business. Companies often expect employees to guide two to three trips per day given that these companies are often catering to cruise ship passengers who might be in the area for just one day. For instance, Sockeye Cycle writes that, "The tours are 2 - 3 hours long with groups of 12 and two guides. A typical day during the main season mid June to mid August involves guiding two trips and driving one."  Copper Oar: Alaska Adventure Travel expects its rafting guides to lead at least four multi-day trips during a summer as well as maintaining gear and developing new itineraries while in the office. Most tour guide companies operated seven days a week so you should expect to work, at times, ten days straight before receiving a day off.     
How Much You Can Earn
Pay scales range from $10-17 dollars hourly to daily salaries of $100-300 depending on job title and type of trip. Some companies provide performance and/or commission bonuses on top of salary and in some jobs, the tips from customers are substantial. In addition, some companies require training and will pay you for those days as well. Very few of these companies cover travel expenses to Alaska or living expenses while there; but they may offer company housing at reduced rates or spaces to camp. For example, Nenana Raft Adventures offers employee housing (hot tub included!) for $225 a month for a single room and estimate that employees who work for an entire season will average anywhere from $8,000-12,000 (pre-tax) with an addition $500 to $1,500 bonus depending on the position. Glacier Park Boat Company, which will train individuals over 18 years of age to drive historic boats and give commentary to passengers, provides employees with communal housing, but starting pay is only $10.34 per hour. Nearly all positions require CPR and first aid certification prior to arrival, so it is important that you calculate the costs of those trainings or training specific to rafting positions (like "swift water certification") into your decision to apply as not all companies will pay for those specialty trainings. The majority of companies do not provide health insurance, but you will be covered by worker's compensation while on duty.      
Getting That Summer Job
In general, there are never enough people to fill all the seasonal travel and tourism related jobs in Alaska. But it can be more difficult to get work with smaller, niche employers. According to Chilkat Guides, the hiring process is competitive. Last year their company received over 200 applications for just 20 positions and found the most attractive candidates to be those with a strong customer service background combined with an active travel lifestyle. Most employment decisions for these positions are made by January and applicants can start applying as early as the previous season. Other companies such as Alaska Mountain Guides and Climbing School already have positions for next season posted on their site. If you do apply early, it is advised to regularly check-in with the companies about the application process to remind them of your interest. A tip for setting yourself apart from your competition is to receive certifications before applying. Not just the standard CPR training, but if you are looking to become a sea kayak guide, obtain your American Canoe Association (ACA) certification to add to your resume. In fact, Cooper Oar states on their website that they give priority to applicants who have completed the International Wilderness Leadership School (IWLS) leadership and guide training course.