Aquaculture & Hatchery Jobs in Alaska
Aquaculture encompasses all managed farming of marine organisms for human consumption and other uses. Approximately half of all seafood consumed by humans comes from farmed operations. Therefore, a wide range of positions exist in the workforce to maximize the operations required to sustain that demand. In Alaska, there are many entry-level, seasonal positions as well as full-time career opportunities.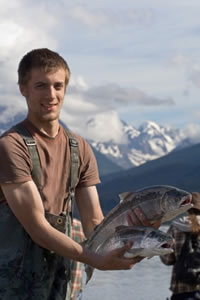 Alaska is one of the primary regions for aquaculture in the United States.  The economic footprint made by the Alaskan seafood industry is near $5 million. In addition to the actual wholesale value of the seafood itself, this figure includes all the industry created to support that seafood.
Salmon is the most recognizable portion of Alaska's aquaculture industry, as well as the most valuable. Bristol Bay, Prince William Sound and all of Southeast Alaska are three of the primary salmon-producing regions.
As with any industry, there are a number of roles within aquaculture, ranging from the production of various seafood organisms to the development of optimum fisheries management.
Fish farms and hatcheries are the backbone of the aquaculture industry. Positions such as aquaculturists, fish technicians and breeding managers are common jobs in this area. These personnel monitor and ensure the health and quality of a specific species. Therefore, for career-oriented positions, a scientific background is necessary to understand and manage the respective operation. These positions require a person comfortable in performing duties in both indoor and outdoor settings. Median salaries average around US $50,000 accompanied by medical benefits and paid vacation.
Because the aquaculture industry centers itself on the human consumption of seafood, processing plant positions are critical to the health of the industry. These plants require management positions to run the day-to-day operations, as well as those handling the actual processing actions. Unloading seafood from fishing vessels, butchering, cleaning and other preparation activities and packing seafood for shipment to consumers are all valuable positions. Educational requirements are typically not necessary for these positions, but an individual must be able to perform physical labor over the entire season for the specific species. The processing positions are paid hourly, with a wide range of wages based on the time of the year.
As aquaculture is essentially dealing with the growth of biological organisms, the need for a fish biologist is critical throughout the industry. The biologist is an important expert in all aspects on aquaculture, from understanding and managing the growth of aquatic species in hatcheries and farms to communicating the impact those operations will have on local surroundings. Biologists are often relied upon to study wild or manmade fishery systems and analytically relay his/her finding through many different methods. Sampling surveys, water quality determinations, environmental impact studies and fishery operation inspections are just a few responsibilities a biologist partakes in.
Salaries generally start around US$40,000 for applicants immediately out of school or those with very little experience. Salaries often extend to US$70,000 with greater amounts of pertinent experience and demonstrated abilities.
Hiring companies often look for biologists with experience and knowledge in local, state or federal fish regulations and requirements, including necessary license and permitting operations.
The ability to manage an aquaculture operation in Alaska extends well beyond the biology. Aquaculture engineers are necessary to ensure all the mechanical, electrical and chemical processes in a fish farm, hatchery or other operation function efficiently.
Education requirements for an aquaculture engineer begin with an undergraduate degree, but master's degrees and beyond are becoming more prevalent. Most engineer earnings begin about US$50,000 annually, but extend beyond US$100,000 as experience and responsibility increases.
If you're simply looking for seasonal work, then start contacting Alaska's aquaculture associations beginning in January. They frequently hire college students to help with a variety of tasks. Pay often starts at minimum wage (Alaska's is $10.34 as of 2022) plus time-and-a-half for overtime worked. In remote locations room and board is frequently included.
Aquaculture Related Resources
Alaska Marine Conservation Council
Cook Inlet Aquaculture Association in Kenai, Alaska
The aquaculture segment of the National Oceanic and Atmospheric Administration.
Alaska Department of Labor & Workforce Development