Alaska Seasonal Construction Jobs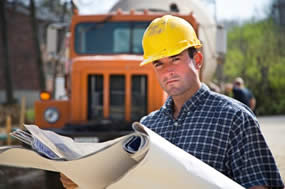 After the harsh Alaska winters subside, the summer's warmth gives way to construction season. While the best construction jobs are available through word-of-mouth, construction jobs can be found through local company websites, classified ads, and the local union of Alaska regional council of carpenters.
Positions are available throughout the state, but are often concentrated in Anchorage and Fairbanks as well as the North Slope. In addition, the types of construction jobs range from flagging (traffic and safety control at construction sites) to carpentry to project management and supervision.
QUICK FACT: During the summer months Alaska can experience between seventeen and twenty four hours of daylight making it possible to work long hours and make lots of overtime pay.
There is money to be made in construction. Without worrying about a setting sun, hours are long and overtime is plentiful. You can expect ten to twelve hour-long shifts for six and sometimes even seven days at a time. If you aren't in the union, you will not be eligible for some positions; but if you are, you will be able to check the union job list (updated daily) or visit the union halls in Anchorage and Fairbanks for job opportunities. Certain positions also require prior certification as required by the State. For instance, flaggers must complete American Traffic Safety Service Association (ATSSA) training course or the International Municipal Signal Association (IMSA) level one training course in order to be legally eligible to work in Alaska. Most construction sites in Alaska are, as you might imagine, just like any other stereotypical construction site. Because Alaska oil industry jobs are remote and in the arctic circle, those working conditions can be harsher than what you're used to.
Construction Worker Pay
Contruction workers in Alaska generally get paid between 20% and 85% higher hourly wages than they receive for similar jobs in other parts of the United States. Entry-level positions start at around $24 per hour; but wages substantially vary depending on union versus non union jobs, type of position, as well as previous experience. If you are part of the union, some of your wages will be deducted for union fees. Rarely do construction companies pay for relocation expenses (except for senior positions) or housing (unless the job leads you far away from home base), so you must budget for housing and transportation expenses for these positions. In some cases, if you are sent away to a location for a project, you will also receive a per diem. Remember, due to the long days and short building season, it is often easy to get lots of hours of work each day which makes it possible for construction workers in Alaska to make outstanding money for the summer.
Timeline and Tips
There are no strict deadlines for applying to construction jobs. Positions are routinely updated on larger company websites like
Norcon
and also on the
IMSA website
. Another option for residents of Alaska over 18 years of age looking to break into the industry is the training and apprenticeship program offered by The Alaska Regional Council of Carpenters union. For just one month beginning in mid-November the union takes applications for this program that provides training (you must pay tuition) and job placement at the completion of the program.
Alaska Summer Construction Jobs Resources
Alaska Summer Jobs Section at JobMonkey.com
Alaska Job Finder - Although this website primarily focuses on the Alaska fishing industry, they do often have a number of construction jobs posted on the website.
www.jobs.state.ak.us/akjb/index.html
More Details about Alaska Construction Jobs
If you have construction job experience or are looking to break in, a job in Alaska's construction industry could be right for you. Remember, due to poor weather in most months, and the long hours of sunlight between June and September, most of the construction in Alaska takes place during those months.
The primary centers for construction jobs in 2021 will be:
Check out the resources listed above to help find a construction job in Alaska.