Alaska National Park Jobs
Become a Seasonal Park Ranger
Because there are 8 national parks, 3 national preserves, several monuments and state parks in Alaska, seasonal employment is plentiful. There are several different types of paid positions available each requiring assorted qualifications:
Internships and volunteer opportunity are also available through the Park Service and participating agencies.
What to Expect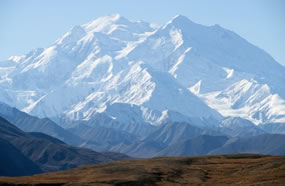 Do you love being outside for lengthy periods of time? Are you okay without cell phone service?  Were you once an eagle scout?  Then this job is for you. Daily schedules vary from 8-5:00 to greater flexibility depending if you're out in the field. Some positions require ten days on and then 4 days off, while others are standard Monday through Friday positions. In general, the season lasts from late May to mid-September when it already begins to snow in some areas. The positions vary greatly depending on if you're an interpretive ranger versus a backcountry ranger versus a maintenance person along with variations depending on what park you are in.  Working at Denali National Park gives you access to several bars and restaurants, lots of co-workers, and the park is only a few hours from both Anchorage and Fairbanks. On the other hand, employment at Gates of the Arctic National Park (GAAR) in Bettles can be far more isolating but feel like summer camp with a frequent town barbeques.  With no road into the park during the summer, GAAR may not see as many visitors in a full season as Denali will get in one day. Another factor to consider is that the Park Service in Alaska employs far more men than woman (besides that there are far more men in Alaska in general). So this job may be both a difficult and wonderful opportunity for some women.   
Compensation and Costs
Expected pay is $20.00/hour and upwards for these positions which includes cost-of-living-allowance (COLA) of nearly 25% specific to Alaska (note that over the next few years Alaska-based federal jobs will transition from COLA to locality-pay). You should expect to pay for your own housing (prices vary depending on locale but generally is around $400 per room in a shared house), food (which can be expensive if it needs to be flown into the bus), health insurance (although you are covered for accidents while on the job), and transportation to/from the park or training site at the beginning of the season. Cars are available for job-related activities and thus, many sites do not require that you have a personal vehicle. A big plus for many is that those who venture out in the field (like backcountry rangers) receive additional travel compensation of $25 per day and these allowances tend to add up throughout the season. Many park service employees report having saved several thousand dollars by the end of season given that they hardly spend any money while on the job. In addition, some individuals are eligible to apply for unemployment as one is technically laid-off at the end of the season. 
Timeline and Tips
Start applying early and apply to as many parks as possible. The application is completed through the portal: www.usajobs.gov and luckily, your application is saved online making it easy to apply for many positions with just a few clicks. In addition, check the USA Jobs site often as positions are added daily and in some cases, the position you were banking on may disappear due to budget cuts.  
If you are short on experience, another option is to apply for a Park Service internship through The Student Conversation Association (SCA) at www.thesca.org. SCA offers internship throughout the United States, but applicants can specify specific regions and positions of interest based on SCA's extensive database of positions. There is a $25 for applying, but interns receive free housing at the park location, a stipend, travel to/from the park, and are eligible to receive the per diem travel allowance that regular park service employees receive when out in the field. Also, depending on the length of your internship you may be eligible for an AmeriCorps education award and health insurance. SCA reviews application beginning in mid-February.
If you have no experience whatsoever or limited time to work, you may want to look into the Volunteer in Parks (VIP) program at www.nps.gov/getinvolved/volunteer.htm. Volunteers are unpaid (although they can receive travel per diems) and required to work at least 20 hours a week in exchange for housing and duties greatly differ from park to park. There is no specific deadline for the VIP program; however, start applying at least 2 months before you want to go to allow for amble time for paperwork to go through.   Volunteers usually stay for a minimum of two weeks.