Cruise Line Jobs in Alaska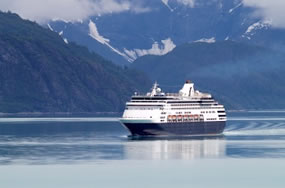 For many, it is hard to imagine a more ideal summer job than working on a cruise ship. In 2022, more than a dozen cruise ship operators will be operating cruise ships in Alaska. These vessels range from the smaller "eco tours" boats to the massive luxury cruise ships with over 2,000 staterooms. Most of the cruise ships travel from Seattle or Vancouver, British Columbia up the Inside Passage making stops at such towns as Ketchikan, Juneau, and Sitka. From here the itinerary changes depending on the cruise line and cruise ship and length of the trip. The general season for Alaska cruises is from May through September.
Alaska bound cruise ship passengers and crew are not only treated to spectacular scenery throughout the trip, but they often also see amazing sealife right from the deck of the cruise ship. It is not uncommon to see whales, groups of dolphins and countless bald eagles.
The larger cruise ships are like big resorts employing between 700 and 1,100 crew members. Smaller ships, often taking people on day trips to nearby glaciers or wildlife viewing areas, carry up to 50 passengers and a crew ranging from 4 to 8.
Here is a list of some of the positions on the larger boats:
Accountant
Activities Director
Activities Staff
Administrative Assistant
Air/Sea Reservation Agent
Assistant Cruise Director
Bar Manager
Bar Staff
Bar Steward
Bartender
Beautician/Aestetician
Bedroom Steward
Casino Staff
Cabin Attendant
Captain
Chef
Child Care Worker
Comedian
Computer/Communications Specialist
Cosmetologist
Cruise Director
Cruise Staff
Customer Service Respresentative
Dancer
Dance Instructor
Deckhand
Disc Jockey
Engineering
Engine Room Staff
Entertainer
Expedition Leader
Fitness Instructor
Food and Beverage Staff
Gentleman Host
Gift Shop Staff
Host
Hostess
Housekeeping Staff
Lecturer
Lifeguard
Magician
Maitre'd
Marine Biologist
Massage Theropist
Medical Staff (Doctors, Nurses)
Musician
Naturalist
Photographer
Printer
Production Manager
Purser
Purser Staff
Public Relations Staff
Receptionist
Restaurant Staff
Reservations Staff
Scuba Instructor
Shore Excursion Staff
Social Director
Stage Manager
Singer/Vocalist
Ticketing Agent
Videographer
Youth Counselor
Water Sports Instructor
Waitstaff
Cruise Ship Job Resources
Getting a job on a cruise ship can be very competitive. This is why we recommend the following sources to help you get the inside edge to securing your cruise job:
CruiseJobFinder.com - Specializes in cruise ship jobs worldwide, including cruise jobs in Alaska.
Also check out Cruise Insiders.
The following companies plan on operating cruise ships in Alaska this summer:
Carnival Cruise Line
www.carnival.com
Celebrity Cruises
www.celebrity.com
Crystal Cruises
www.CrystalCruises.com
Holland America Line
www.HollandAmerica.com
Norwegian Cruise Line
www.ncl.com

Princess Cruises
www.princess.com
Radisson Seven Seas Cruises
www.rssc.com
Royal Caribbean
www.RoyalCaribbean.com
InnerSeaDiscoveries
www.InnerSeaDiscoveries.com/
Lindblad Expeditions
www.expeditions.com
American Safari Cruises
americansafaricruises.com/
Alaskan Dream Ventures
alaskandreamventures.com/
Alaskan Dream Cruises (Allen Marine Tours)

Fantasy Cruises
www.smallalaskaship.com/
Pacific Catalyst II
www.pacificcatalyst.com/
Sea Wolf Adventures
www.seawolfadventures.net/